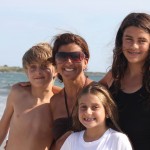 Kyra 

Title: Founder, Chief Running Officer & Mother of 3.
Favorite Activities: Driving in the left lane, running, biking up hills, skiing bumps, sitting on the beach.
What gets me up in the morning: The smell of coffee, my 10 year old & the promise of a new day.
Guilty pleasure: A long run & reading with my children.
Strength: Eternal optimism.
Weakness: Brownie batter and eternal optimism.
Pet peeve:  Pessimism.
Degree: Bachelor of Architecture (Cornell U)
Past Careers: Bike tour guide, waitress, bagel girl, architect, product designer, interior designer.
Favorite form of stress relief: Retail therapy & a long run.
Favorite Quote: "If you think you are too small to make a difference, you have never been in bed with a mosquito."
What do you love about Women Run? It allows me to be the social entrepreneur I was born to be and I get to wear flip flops to the office.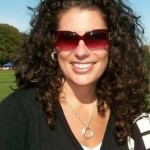 Krissy
Title: Director of Social Media, Fairy Godmother to Kyra's 3 children.
Favorite Activies: Sitting on the beach. Laughing – the teary eyed, hold your stomach kind, sitting at Kyra's island chatting with the kids usually . . .with cookies!
What gets you up in the morning: Time to go to work!
Guilty Pleasure: Sleeping in on the weekends.
Strength: Always knowing the glass is half full.
Weakness: Peanut butter, M&M's and a great deal on shoes!
Pet Peeve: Christmas wreaths left on a house until April, May, June . . .
Degree: BS in business marketing – with a minor in Psychology (Kyra's therapist!)
Past Careers or titles: Baysitter, waitress, bartender, Benefits/HR manager, Cirector of Community Relations, Movie Star stand in and body double, TV commercial extra.
Favorite form of stress relief: Reatil therapy, a good laugh, and anything chocolate.
Favorite Quote: "For beautiful eyes, look for the good in others: for beautiful lips, speak only words of kindness: and for poise, walk with the knowledge that you are never alone." Audrey Hepburn
What do you love about Women Run? I love celebrating all that women do – including saving a friend from eating the entire pan of brownies by herself in a moment of distress, by eating the other half for her – because that's what good friends do!